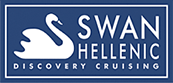 Thanks to the insights of your Swan Hellenic Guest Speaker on board, and to expert guides ashore, you'll have a much more rounded appreciation of the history, art and architecture that surrounds you, a more in-depth understanding of the many themes explored.
With Swan's distinctive approach to discovery cruising, you'll enjoy an inclusive programme of shore excursions and stimulating talks from your Swan Hellenic Guest Speaker, all included in your cruise fare.
Swan Hellenic charters the river boats of A-ROSA and claim to enable the discovering of the heart of Europe with many of the ingredients that mark out Swan's traditional ocean-going voyages. They also feature the private yacht-like Royal Crown, carrying just 79 passengers on the Dutch waterways.

WHERE DO THEY GO: Rhine, Danube, Rhone, Saone.

Swan Hellenic Video