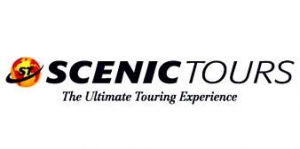 The first European river-ships to be fully owned by a specialist (and long-established) Australian company, these 'Space-ships' were specifically created by Scenic in 2008 to be market-leaders for all-inclusive comfort, and they still deliver that experience to this day.
Boasting genuinely impressive space, luxurious amenities and two full decks of Private Balcony Suites that feature full-size, private outdoor balconies adjoining the spacious internal cabins, they also feature a choice of dining and the option to enjoy private butler service. There are nine vessels in the Europe-wide fleet (including one in Russia) with a 10th, Scenic Gem, due to join in 2014.

The array of high-quality services and amenities included with every cruise are equally as impressive as their mission statement:

Unlimited Complimentary Beverages
Private Butler Service – for every guest
Complimentary bottled water - replenished daily
Complimentary in-suite minibar - replenished daily
All meals
River Café* – all day dining including espresso, cakes, gourmet wraps and gelato
Table La Rive* - Chef's Table degustation dinner
Crystal Dining Room – themed dinners with entertainment, Lobster Farewell dinner
High Tea – on the Terrace
Scenic Sun Lounge* - private balcony conversion
Scenic Riverview – GPS-activated expert commentary
Complimentary Wi-Fi internet
On board entertainment
Airport transfers
All Tipping and gratuities – on board and on shore
* Not France ships
WHERE DO THEY GO: Rhine, Danube, Moselle, Rhone, Saone, Seine, Russia.
OPERATOR VIDEO