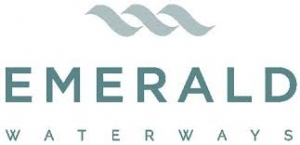 This brand new company in 2014 is setting out its stall to to be the most inclusive and modern of any European river-cruise company. Part of the Scenic Tours Group but operating completely independently, Emerald are introducing all-new, custom-built Star-class ships (two to start with, but more in the pipeline) that offer a unique heated indoor swimming pool that becomes a cinema at night (see pics below).
Luxurious staterooms range from 130sq ft single cabins to expansive 210sq ft Grand Balcony suites and four huge 315sq ft Owners Suites. Standard Balcony Suiotes come in at a generous 180sq ft, with all mod cons, like hote-style bds, flatscreen TVs with infotainment system, climate control, free bottled water and Wi-Fi.
They also promise five-star dining with free wine and beer at unch and dinner, a fabulous main restaurant, Reflections, and an additional alfresco option, The Terrace, when the weather is right. Emerald will also offer what they call "authentic dining experiences off the ship to give you a deeper insight into your destination's culture." Examples include an opportunity to taste traditional fare, and learn more about everyday life in Bratislava during at a home-hosted afternoon tea in the company of a local Slovakian family.
WHERE DO THEY GO: Rhine, Danube.