was like being awake in a particularly vivid dream. Tier after tier of vine-swathed terraces climbed in orderly ranks along both sides of the swirling River Douro as the Spirit of Chartwell made her stately progress through the very sinews of Portugal's ancient, wine-growing heartland.
With the early morning sun bathing the historic waterway in a brilliant, translucent light, the whole scene had an amazing vitality.
From water level, a stunning, continuously changing panorama unfurled like so many muffled drum rolls. Small villages, each one clustered around the steeple of a local church, seemed to recoil from the river's edge.
We sailed serenely under huge, vaulting bridges crossed by traffic that looked like tiny ants. Rounding a hairpin bend, we would pass some small freighter, shackled to the land as if it had been there for decades.
The Spirit of Chartwell is best remembered as the royal barge used for the 2012 Diamond Jubilee celebrations on a sodden River Thames; an event that made her the centre of world media attention. Following that star moment, she was bought by Portuguese river operator, Douro Azul, and set to work cruising on Portugal's single most dazzling river cruise experience.
UK operator Titan Travel then decided to charter the vessel for river cruises, originating in the historic city of Porto, on the north-west coast. Getting there was effortless; I was picked up from my home in the North-East and driven to Gatwick, with two stops en route. From there, I flew to Porto, and transferred directly to the ship on a sultry hot summer afternoon.
Spirit of Chartwell is long, sleek, and engagingly elegant. Decked out in the same umber and cream livery as the Pullman rail carriages of the Orient Express and topped with an upper deck sprinkled with real teak deck-loungers, she exudes pure, platinum-chip class.
This level of elegance continues inside, with large panoramic windows framed by deep, dark-wood panelling and elegant Lalique wall fixtures, taken from the legendary Cote D'Azur express.
This bow-to-stern open area features the dining room up forward, complete with banquette seating arranged down either side of a central walkway. Aft of this is a small, beautifully styled lounge bar with comfortable seating areas, and a beautiful piano, strangely without a piano player. At both ends, stairwells lead to the cabins on the deck below and the sundeck already mentioned.
Those cabins were like little jewel boxes, wrapped in dark wood trimmings, and each adorned with the crest of a famous former Royal Navy vessel; HMS Glasgow, in my case. The bed was sublime, but the real surprise here was the size of the bathroom, with a fabulous walk-in shower, and top-end toiletries.
Drawers in the bottom of the cabin-type beds allow for ample storage space. There is not much room to hang formal clothes, but you don't really need those in any event. The dress code on this voyage of discovery is strictly smart casual.
Food was typical Portuguese fare, centered on the excellent local meat and seafood, and served in three courses. Each order was prepared individually for a maximum of 44 passengers, and the quality and presentation was easily equal to any four-star hotel. On one night, we enjoyed a superb buffet served out on the upper deck. With the early evening sun still high in the sky and those fabulous, stepped Portuguese vineyards as a backdrop, it was a wonderfully casual experience.
There was no entertainment as such, but none was needed. The fantastic natural panorama that we passed through was entertainment enough in its own right. And, every night, the Spirit of Chartwell snuggled up alongside some small, perfectly formed little village, allowing those who wished to stretch their legs ashore.
All of the excursions were included, from an amazing evening of dining and dancing in the cellar of one of the amazing wineries of the region, to a fantastic afternoon visiting the baroque splendour of the Mateus Palace, with its sumptuous formal gardens and perfectly preserved, late 17th century public rooms.
The experience of gliding down the Douro was as sublime as it was surreal, and it threw up a whimsical dichotomy. On the one hand, the riverbanks seemed almost close enough to touch on both sides. We saw cows grazing on the patchwork quilt of fields and people waving at us as they rode bikes along either side.

Spirit of Chartwell was raised and lowered some 80ft at intervals by a series of towering concrete locks, only to emerge into another hinterland of houses clinging to the hillsides, people hanging out their washing and small rowboats beetling past below us. It could hardly have been more up close and personal.
But at the same time, there was a splendid sense of detachment and isolation on board. The main sensation was one of unruffled calm and ease, relaxing on deck with a book or a coffee as this unrivalled scenic smorgasbord drifted past on both sides.
The only sound was a warm breeze that whistled down through the high, winding valleys, but even that was a blessing in the heat of June. We might just as easily have been on a flying carpet as a river cruise.
And the ship was a star attraction, too. She attracted crowds everywhere she docked, their curiosity piqued by a riverboat that looks like nothing ever seen on these waters. If the competition resembled a series of lumbering water buses, then the Spirit of Chartwell was one part graceful swan, two parts Rolls-Royce.
Highlights of our visits en route included the amazing staircase at Lamego, with hundreds of steps, punctuated by a series of staggering, colonnaded lobbies, framed with deep, lush greenery and backed up with exquisite, blue and white porcelain-tiled frescoes.
Each stop along the way afforded fabulous vantage points over the ochre-coloured houses below, with their red-tiled roofs and ancient church spires looming above the skyline.
Leaving the Spirit of Chartwell, I headed for a four-night stay at what ranks as possibly the most endearing hotel operation I have ever seen; a converted former 12th century monastery in the sublime, one-horse village of Santa Maria Do Bouro.
The Pousada Dos Amares is adapted around many of its original features, principal among which is a central, hauntingly atmospheric rectangular cloister. Framed by torchlights at twilight and suffused with the sound of constantly chirping tree frogs, it is beautifully atmospheric.
The rooms were the former monks' chambers, fitted with modern touches like electric window blinds and plasma TVs, a large bathroom and an extremely comfortable bed. Corridors were long, darkened walkways that led to a series of huge, vaulted chambers, such as the main dining room and the bar, with its vast open fireplace. There were even a pair of separate TV and snooker rooms.
A series of wide, welcoming gardens debouched from a vast, expansive terrace that offered heart-stopping views out over the lush tracts of natural forest that surround the pousada.
The sense of detachment and sheer inner peace engendered by this environment is difficult to quantify. Though the area is ideal for venturing out to such sites as the famous national park at Guimares, I spent the days here simply strolling along woodland paths and trails and savouring a series of glorious sunsets.
It was a week I will never forget; a magnificent mix of style and service on an evocative, elegant river-cruise that ghosted through one amazing visual feast after another, punctuated with some fantastic, all-inclusive visits back into the heart of real, old world Portugal; a part of the country few tourists ever see. Add in the ethereal calm and charm of the stay at the pousada, and you have the stuff of dreams.
SPIRIT OF CHARTWELL FACTFILE
Maiden voyage: 1997 (as Vincent Van Gogh)
Length: 210ft
Beam: 22ft
Draft: 5ft
Speed: 11 knots
Passengers: 40
Passenger decks: 3
Cabins: 15 (including one suite)
Registry: London
ITINERARIES: Titan Travel feature this 7-night holiday May-Oct 2014 from £1,895 per person (based on an October 15 departure) for the 3-night cruise (full board) and 4-night stay in the pousada (half board), including flights, the services of a Titan tour manager and Titan's VIP Home Departure Service.
MORE INFO: call Titan on 0800 988 5858 or visit www.titantravel.co.uk.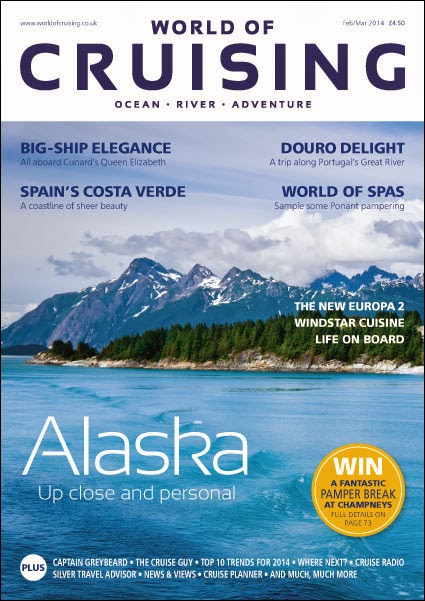 For the full digital version of the latest World of Cruising magazine, including the Dreamy Douro feature, click on the magazine cover.