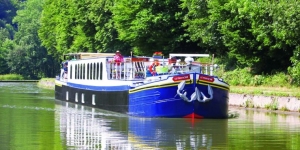 Steven B Stern goes tiptoeing through the tulips on a luxury hotel barge with European Waterways

The first taste of dinner aboard Panache reinforced our expectations this was to be a truly enjoyable experience. It started with fresh foie gras grilled with grapes in a wine sauce, followed by lamb medallions in a red wine sauce served with potato gratin and young spring vegetables Provencalstyle.
Next, our Michelin-trained chef presented a cheese course during which we sampled cow, goat and sheep cheeses. For a conclusion to this gourmet meal, we were served a trio of chocolates in a raspberry coulis. Coffee and aperitifs were served in the lounge following the meal. Happily, that introduction proved a genuine taste of things to come as all our meals aboard were equally imaginative and of similar quality.
But dining was just one of the delights of our experience with European Waterways, the luxury hotel barge company that now has a distinctive offering on the Dutch waterways to complement their numerous vessels plying the rivers and canals in France.
We flew into Amsterdam the day before the cruise and spent the evening at the Amsterdam Marriott, preferring its ideal location close to the Rijksmuseum, the Van Gogh Museum, upscale shopping areas and Samba Sebo, our favourite Indonesian restaurant.
The following afternoon the staff of Panache picked up some passengers at the railroad station, and others at Amsterdam's Pulitzer Hotel, a luxury class property that was recommended by the cruise line, but not included in the fare. Two mini-vans transported the eight of us who would be travelling companions for the next six nights to Haarlem, where Panache was moored. Following a brief orientation by the captain accompanied by a glass of champagne and hors d'oevres, we were escorted to our cabins.
All of the 150sq ft cabins were identical, quite a bit smaller than those on the Renaissance. However, they did include a queen bed, two closets for storage, two lamp tables, a small desk, two windows, a TV and a bathroom with double sinks, hair-dryer and a glassed-in shower.
The friendly staff kept the cabins well maintained and were most accommodating to our requests, including laundry (a definite plus).
As on other European Waterways barges, meals are served on fine china and wines are embellished by elegant crystal with the proper glass for red and white vintages. The dress code was relaxed and casual, except for the Captain's Dinner on the last evening when men are expected to wear jackets and women dresses or suits.
With each lunch and dinner, the staff introduced two special cheeses and quality red and white French wines, including some premier cru. The barge had a fully stocked bar of liquors, wines, brandies and soft drinks, which were available around the clock, gratis.
Throughout the cruise, hors d'oeuvres, snacks and treats were available non-stop. Thankfully, smoking was not allowed on the barge, except on the outside deck. Those still addicted had to excuse themselves from dinner and step outside to indulge.
The first morning, following a breakfast of fresh croissants, breads, breakfast meats and cheeses, we took a guided walking tour of Haarlem. The boat retained a knowledgeable local tour guide who stayed aboard and conducted all our excursions.
During our tour, she pointed out the typical Dutch architecture, describing its nuances and development. We walked around the central market square with its Town Hall, impressive Great Church, history museum, shops and restaurants.
On the way back, she took us by the red light district, which was not quite as audacious as the one in Amsterdam. It was a cold, rainy day and, after a while, we were anxious to return to the cosiness of the barge. This is the drawback of travelling in early spring, before the European weather heats up.
After an exquisite multi-course lunch of a salad of wild forest mushrooms and bacon in a caramelised strawberry vinegar sauce, sole filet in a white wine sauce, pasta tossed in pesto, a cheese course and coffee mousse cake with fresh fruit, accompanied by a crisp Chablis, we were taken in the mini-vans to the famous Keukenhof Gardens.
Here we were given three hours to stroll through the 100 acres filled with seven million flowering bulbs. Everywhere we
walked, we were treated to a cornucopia of colourful tulips, orchids and roses. This is truly a unique park, most enjoyable to explore and the raison d'etre for some of the couples choosing this particular itinerary.
The gardens are open for two months each spring, which is why several companies feature Dutch itineraries only during this time of year.
Next morning, our tour commenced at 6.45 taking the group to the Aalsmeer flower auction where 17 million cut flowers from all over the world are auctioned daily. It was necessary to arrive by 8am in order to see the auction in full swing.
The building where this takes place is said to be the largest commercial building in the world at 10.6million sq ft. About 6,000 growers sell to more than 2,000 buyers through what is genuinely a Dutch auction.
That afternoon we cruised to Delft, mooring overnight, and next morning was a tour of the famous Delft pottery factory, which is set up to provide a definitive presentation of its product, including movies of the company's history, a demonstration of how the product is produced, and a tour of the showrooms featuring a plethora of Delft-designed merchandise. Most impressive was the ceramic reproduction of Rembrandt's Nightwatch.
From Delft, we cruised to Rotterdam and were taken to the Ketel One Vodka factory in Schiedam. The tour provided detailed explanations of every step in the process from producing the vodka, to bottling and shipping, but, to be honest, it all became quite tedious. Thankfully, our tour guide told the rep we had to get back to the barge, thereby cutting the four-hour programme down to two hours of ennui. Although there was no tasting, we were rewarded for our visit with a 'goodie bag' of vodka.
That evening we moored in Dordrecht, with dinner off the barge at Le Blanc, a charming restaurant overlooking the canal serving excellent French cuisine. A meal ashore is traditional on all European Waterways itineraries and provides a little variety, as well as a diversion from our usual evening routine.
We were scheduled to spend the following day at Floriade, an exposition held once every 10 years with displays of exquisite flowers, plants trees, fruits and theatrical attractions. However, the consensus of our group was to give the excursion a pass since it included four hours of driving.
As an alternative, we went to Kinderdjyk to view and explore working windmills. This was certainly a unique experience during which we were able to meander around a traditionally furnished windmill, followed by a typical Dutch bistro for lunch, with pitchers of Heineken.
Our next destination was Gouda, where two tours included St John Church with its famous antique stained-glass windows and a local farm that produced cheese from its own cows. Here, we were instructed in the total process of how Gouda is made, with an opportunity to sample several varieties.
By the end of the cruise we had become a convivial group. The barge's public areas are limited to one large salon with couches, chairs, a self-service bar, and CD player, and a small library adjacent to a dining area. When weather permits, guests can take advantage of a small outside observation deck.
This means you are continuously with the other guests when you are outside your cabin and this is usually a positive experience, providing a great opportunity to make new friends (or travel with existing ones).
The barge also carries bikes for all passengers. However, the weather and location where the barge moored did not permit much opportunity for biking on this itinerary. Although there were only eight guests on our cruise, Panache has six cabins and can accommodate up to 12. Dutch itineraries are offered in April and May while, from June to the end of October, the barge cruises in Alsace-Lorraine.
Although I am most partial to the charm of meandering along the picturesque waterways in France, our cruise through Holland was certainly interesting and educational while the waterways actually offered a greater variety of excursions than the French canal barges.
For us, the expertise of the friendly crew and their willingness to please, along with the superb dining experience, made our six nights on Panache a hugely enjoyable trip. And, having experienced three delightful cruises on European Waterways vessels, I can understand why they are the leaders in hotel barge cruising.
Steve Stern's new book, Stern's Guide to European Riverboats & Hotel Barges, will be out later this year.
PANACHE FACTFILE

Barge fares for 6-night itinerary: £2,990-£3,390 per person, double occupancy; Group charter for eight, £29,000-£33,100; for 10, £30,900-£35,200; for 12, £32,500-£37,000.

European Waterways also offers itineraries in Burgundy, Champagne, Canal du Midi and Provence, Alsace-Lorraine, Loire Valley, Holland, Italy, England, Ireland and Scotland.

More info: in the UK, call 01753 598555; in the US, 1877 879 8808; or visit www.gobarging.com.