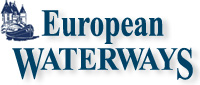 A truly personal, all-inclusive experience, using luxurious, expertly-converted hotel barges that take from just 6-15 passengers. Their signature touch is onboard gastronomic meals and fine wines utilising the freshest produce and expertise of the regions they sail through, allied with high-quality all-inclusive guided excursions, many specially arranged to be as individual as the boats themselves.
Barging is much slower-paced than tradition river-cruising and does not cover as much territory, but it still features the heart of great countrysides, in 16 different regions, and affords the ability to moor at the very centre of the cities, towns and villages they visit.
Some barges include a spa pool on the top deck while all include the use of bicycles for guests to use along the towpaths and roads that run alogside the rivers and canals.
As well as the obvious destinations, European Waterways also feature more off-the-beaten track options like the Canal Du Midi and Gascony in France and the River Shannon in Ireland.
WHERE DO THEY GO: Seine, Bordeaux, Moselle, Po, Burgundy, Picardy, Belgium, Holland, Canal du Midi, Alsace/Lorraine, Loire Valley, Gascony, Champagne, Ireland, Britain.
OPERATOR VIDEO