07.01.2014
Welcome To The New River Cruises Europe!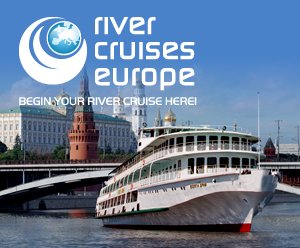 Jan 7.- It's a very warm 2014 'Welcome' from us at River Cruises Europeif you are new to our site, and a sincere 'Welcome back!' if you have been visiting for the past year or so and are keen to see something new.
Either way, the exciting news from RCE is that we are now a part of Real Response Media, a specialist Publishing and Database company who already own World of Cruising magazine and its companion Time Spent At Sea blog site.
This means we are kicking things up several notches, with new content, new info, new insights into the great business of river-cruising and a whole new outlook on the waterways of Europe, from the small luxury hotel barges to the large new riverboats and their ever-expanding fleets. We aim to make this THE one-stop shop for ALL things to do with European river voyages, with special offers, late deals and all the essential info you need to make an informed decision on this great holiday choice. And there is even more in store.
Director Chris Pitchford says: "We're delighted to be the new owners of River Cruises Europe, which is already an excellent resource for all things to do with river-cruising and which we intend to build even further in future. With the expertise behind our cruise magazine - which already includes a section on river-cruising - and our other marketing and database contacts, we aim to provide a fully independent, fully up-to-date website that gives people everything they need to make a sound and informed holiday choice."
Fellow RRM Director Matthew Underhill adds: "We know how much river-cruising is expanding and increasing in popularity and we want to ride that wave of interest and contribute to even more growth in future. And we also now have great synergies between the range of publications to allow for cross-marketing and great brand recognition."
So, stay tuned to River Cruises Europe in the weeks and months ahead as we continue to add new content - some of it from the highly-regarded pages of World of Cruising, and some from all-new sources - and make this the UK's leading one-stop shop for travelling by riverboat through France, Germany, Holland and, yes, you guessed, it the rest of Europe!
Be sure to check out the magazine at www.worldofcruising.co.uk - subscribe before the end of the year and you can save 50 per cent OFF the price of a normal one-year annual subscription.
And don't miss the Time Spent At Sea blog, too; it's updated daily with all the latest cruise news and offers and, together, will provide a comprehensive picture of the whole wide world of cruising!