09.12.2013
Explore More With Viking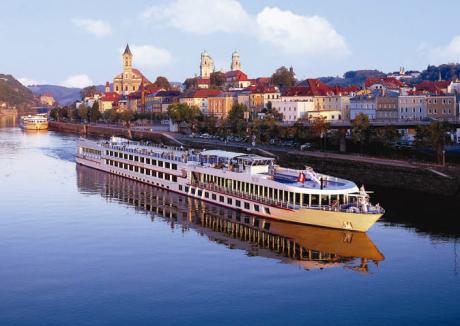 Dec 9.- We all know that river-cruising is the ideal way to actually SEE the places you sail through, but Viking River Cruises are aiming to make the experience even more rewarding in 2014 with the introduction of six new Explore More land extensions that enable guests to extend their stay and enhance their time abroad.
The new extensions open the door to some of Europe's finest cities either before or after a cruise and are customisable through the services of Viking's on-site Concierges.
All extensions begin with a walking tour to familiarise guests with the area and include hand-picked, high-quality hotel. With a Viking Concierge available at the hotel, travellers have a local host to help them make the most of their trip.
These new excursions for 2014 include:
Bruges (3 nights; available with Rhine Getaway) – Recently named one of Condé Nast Traveler's most popular cities in Europe, Bruges offers some of Europe's finest dining, scenic squares set among medieval houses, charming bridges and beautiful canals. Prices start at $699 per person.
Kraków (3 nights; available with Elegant Elbe) – In addition to exploring one of Poland's oldest and largest cities long hidden behind the Iron Curtain, Viking guests can visit the moving site of nearby Auschwitz or fascinating Wieliczka Salt Mine. Prices start at $699pp.
Nuremberg (2 nights; available with Romantic Danube) – Guests will enjoy a guided tour of historic Nuremberg Castle and plan a visit to the Germanische National Museum or a nearby Brauhaus to experience an authentic German beer hall up close. Prices start at $399pp.
French Riviera (3 nights; available with Portraits of Southern France or France's Finest) – Guests can take in the glitz and glamour of Nice with a guided tour of the coastal resort town; then relax on the beach; or take in the cosmopolitan sites of nearby St Tropez, Cannes or Monaco. Prices start at $799pp.
The Hague (2 nights; available with Tulips & Windmills) – Following a guided tour of The Hague, guests can have their Concierge arrange visits to local great art collections from 17th-century Dutch Masters like Vermeer and Rembrandt. Prices start at $499pp.
Lake Geneva (3 nights; available with Rhine Getaway) – Guests will enjoy the beautiful scenery of Montreux, one of the loveliest resorts on Lake Geneva, a customised plan for a Swiss Riviera wine tour or a ride on the Golden Pass train through beautiful Alpine scenery. Prices start at $799 per person.
More info: call 0800 319 6660 or visit www.vikingrivercruises.co.uk.